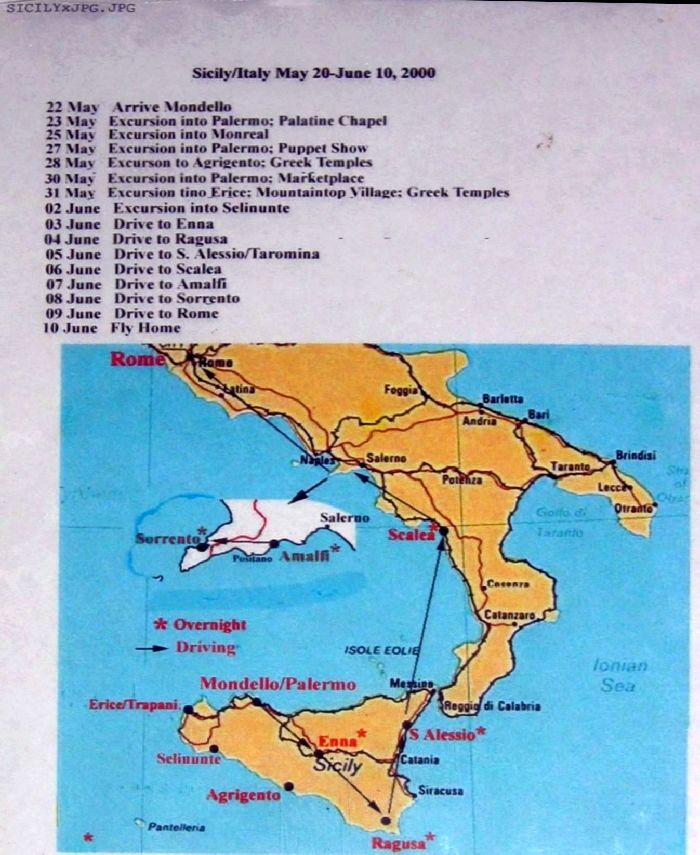 Sam & Marion Goodman and Marj & Ellis Katz flew out LAX 20 May on Alitalia and arrived Milan 12 hours later, 21 May (Sunday). Elderhostel arranged an overnight at small hotel near airport. While walking, found a nearby restaurant in the nearby woods and had a very nice supper. Flew to Palermo next day, 22 May (Monday), where Elderhostel host, Giovanni, greeted us.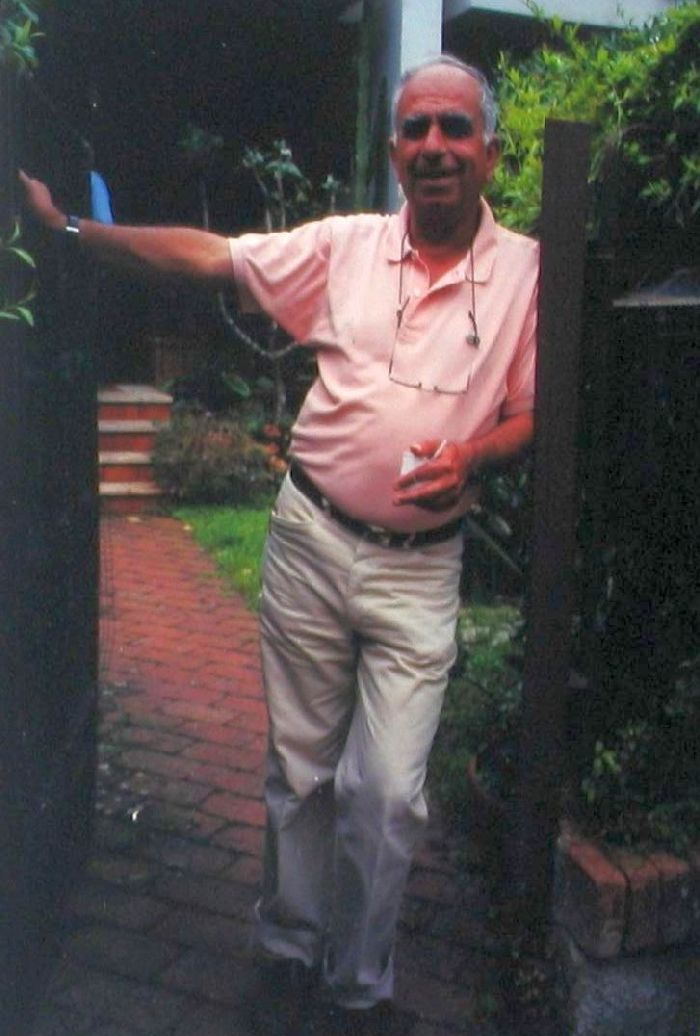 Boarded a bus for our hotel: La Torre in Mondello, about 10 miles outside Palermo. The hotel was a very pleasant surprise-. Every bit a 4-star quality. We had a very nice room, air-conditioned, and, from the hotel patio, a beautiful view overlooking the Mediterranean and nearby beaches. Monday evening we assembled for a "get together"; drinks and orientation. There were 35 guests for this session. We had a chance to meet Giovanni and found him to be a most delightful, entertaining, and informative person…. Giovanni was the principal lecturer and guide for our studies and activities.
Tuesday, 23 June: In the morning took short walk into the village of Mondello, which had its origin as a small fishing village and still retains some of that image. In the summer, Mondello serves as a beach resort for the Palermo region. There is a small square in the village surrounded by eateries. Folks sit around the square munching on food and gelato. We hiked out to a lighthouse where we could see a view of the whole bay fronting our hotel. There were also watchtowers built in the 16th century to warn the populace of marauding pirates from (for example) North Africa, little over one hundred miles across the sea.
That afternoon we bussed into Palermo to several churches, the main one being the Palatine Chapel. The Normans, who conquered Sicily from the Arabs in 1091, built this church in the early 12th century. The church combines Arab, Byzantine Greek, and Roman Catholic influences in its architecture and mosaics. We were told that this melding of art forms was directed by the reigning Norman king to recognize and satisfy the major racial and religious peoples of the times.
On Saturday, the 27th, the entire Elderhostel group was treated to lunch at Giovanni and Marcella's home in Mondello. Marcella is nominally the lead person who organizes the Elderhostel, and Giovanni humorously referred to her as his "boss". They have a lovely upper-class home where they served a delicious lunch.
Afterward, we boarded a bus for Palermo to see a traditional puppet show. Puppet shows have a long tradition in Sicily and were the principal form of entertainment before modern times. One of the most traditional puppet shows features a battle between the Normans and Arabs and has, as its hero, Orlando…a cross-eyed warrior. Marjorie bought a small puppet of Orlando when we visited Monreale near Palermo.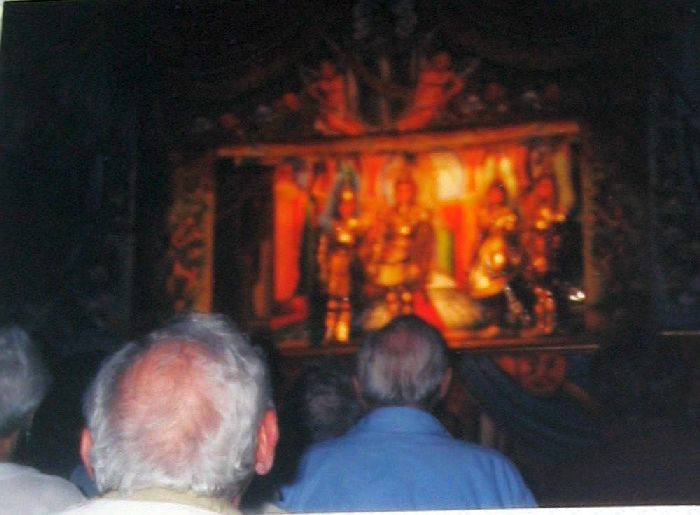 Sunday, the 28th, we took an all-day excursion to Agrigento on the south coast of Sicily. There we visited the ruins of early Greek temples, one of which remains in fair condition… only because it was taken over and maintained as a church by early Christians.
On Tuesday, the 30th we visited the Palermo marketplace, a very busy place where one of our group, Les Goodman, managed to get lost … but, no problem: he was soon found. We also visited a chapel where we saw some very impressive religious bas-reliefs. One of our group was Niles, a nun; we purchased a booklet on the church's art which we gave to her. Later, that evening while music was played in the ballroom, Mari danced with Niles … and she was so pleased… light on her feet even though quite heavy. She told Marj that 'Niles" was her given name and that she worked in the library of a school.
Wednesday, the 31st. We took an all-day trip to Erice on the northwest coast. Erice is a small village high on a mountaintop overlooking Trapani and the distant sea. Like most interesting sites, there were many tourists. We had almond cakes in a small shop in Erice and walked through small alleyways with patterned cobblestone surfaces over one thousand years old … also looking into courtyards, which are featured in Erice. Marj bought earrings, as did Ruth Goodman; Ruth later presented her earrings as a gift to Marj.
On Thursday, the 1st of June with Sam and Marion,, we took a city bus into Palermo for the morning, walked the streets, and window-shopped. We had a delightful lunch at a small bistro just off a park but had to wait thirty minutes till I:00 for the place to open. Lunch was scooped out of cantaloupe, mixed with shrimp shavings and pasta…excellent! Palermo has, after 23 years, rebuilt its opera house, which is quite beautiful (looks like the old Paris opera house) and forms a center to the town.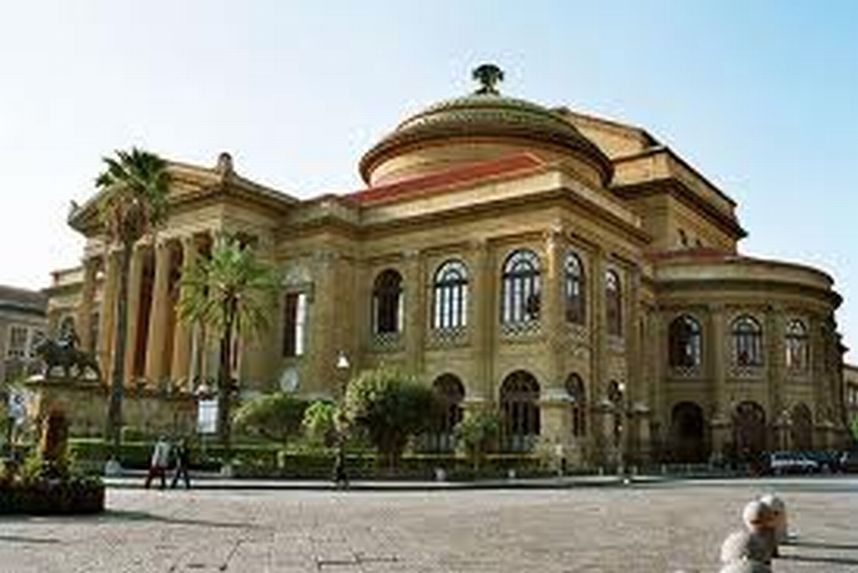 The next day, Friday the 2″d, we took a full-day trip to Selinunte on the southwest coast of Sicily. This is the site of a number of early Greek temples, including one of the largest ever built. Because the weather was very hot, we elected to sit out at least one of the sites and, while doing so, met and conversed with several nice young Sicilian ladies. That evening, the last of the Elderhostel, we were treated to a Farewell Dinner and cocktails with all the Elderhostel staff attending.
Saturday, 3 June: Bussed to Palermo where we picked up our car (Alfa 156: our baggage just barely squeezed into "18 sq. ft" trunk but we did have adequate seating space) and took off for Enna. We drove east, took a strada to the south, then turned east over mountainous terrain toward Enna. Stopped in a small village (Villarosa) for a short walk before proceeding on our way. Came into view of Enna at the summit of a mountain and drove to the top searching for our hotel: Riviera- Turned out that the hotel was on the other side of Enna at the foot of the mountain in Pergusa … what should we have expected … that a hotel named Riviera would be at the top of a mountain? It was a nice hotel located on a large lake which mythology claims was the site that Hades abducted Persephone, daughter of Demeter, goddess of plant life.
Sunday, 4 June: Drove to Ragusa on the southeast coast. Found the Mediterranean Palace hotel by asking strangers. Nice hotel with parking garage. Took a drive through old town built into mountainside; narrow winding streets. Took a long drive to the sea; nice beaches and busy. Found a parking spot and went for walk along beachfront. Found a large restaurant featuring seafood but had big problem getting waited on. Food was only so-so. Bought a rose from a vendor for Ma '…she liked that. In the evening took a walk from the hotel to an overlook above old town. Had dinner at the hotel outdoor bistro … very nice.
Next morning, Monday, 5 June, drove to Sant' Alessio just north of Taormina on east coast. As we drove from the south, we passed Mount Etna on our left and, later, viewed Taormina high on a mountaintop. S Alessio is a small beachfront village. We drove up the mountainside to Taormina. Well … the "village" turned out to be a shopping and eating strip, which led to a plaza and church. And the mob of people were from everywhere, including a cruise ship anchored off shore. We had some lunch, walked a little, and left.
I had read in our Sicily "Rough Guide" book of a mountain village nearby called Savoca where part of the original "Godfather" was filmed. We drove a long winding mountain road to the quiet village at the summit. We parked near a small plaza where there was a bar and some older Sicilians playing a card game. The book had also mentioned a lady who runs the bar and who had been present at the Godfather filming. Of course, Marj sought her out. Although she protested having her photo shot … she, later recanted.
We took a long up-hill walk to a church near the top. On the way, we passed a mother and children on their "patio" and, further on, a sculptor in his workshop. The sculptor, who is considered an important artist in the area, was making intricate and impressive religious bas-reliefs for Christmas. When we reached the church, we found two ladies seated in what appeared to be a restful time for them. Later, that evening, we had drinks on the hotel's patio and took a stroll along the beachfront. In the early morning the Goodman's and we took a stroll along the main street of the village…. S Alessio was a very nice stopover barring the Taormina debacle.
Tuesday, 6 June: we knew we were going to have a long travel day; a ferry across the Straits of Messina into the Italian mainland and a couple hundred miles to Scalea, our next stop.
We arrived at our hotel, the Santa Catering, mid-afternoon. Scalea is a a very popular tourist beach village on the west coast. The hotel is very large and is adjoined by an annex across the road. Sam met some Italian guests with whom he had a "scintillating" conversation in Italian. It turned out that Sam's Spanish served us well; he was an excellent translator during our entire trip.
We took a ride along the sea front and then returned to the village shopping area where I bought, with Marion's expert advice, a white blouse for Marj. On our hotel's recommendation, we found a small restaurant in the village inland from the sea and had a delicious supper. The restaurant had many awards and we met the "mama " (cook) and father of the young lady who served us- Afterward, we walked into the village, which had many fine shops. Sam bought Marion a beautiful purse…so with the purse and the blouse, our ladies had a good day.
Wednesday, June 7: A long drive to the Amalfi coast. We had a tortuous time trying to find our way onto the coastline drive to Amalfi; I wore out driving, so Sam took over the driving along the coast to Amalfi to the Cappuccini, a hotel recommended by the hotel desk clerk in Scales. The Cappuccini was situated far above the sea and built into the rock face of a cliff. We had an interesting time "getting" into the hotel. First, we had to park into a slot on the highly trafficked road by the hotel and then unload our baggage from the trunk while dodging the traffic. But, Giovanni who sits by the side of the road and is the hotel's majordomo helped us. He literally would walk out into the traffic, hold up his hand, and stop traffic while we crossed in front of the death-dealing cars and trucks. After that travail, we climbed into an elevator that ascended high up the rock face of the cliff and deposited us into the hotel. The hotel was old and elegant and we enjoyed our stay. But, to get to the seafront, we had to walk parkway down the road and descend a long stairway to the beach surface. This we did and had a lousy lunch at a joint on the beach. Later that evening we had dinner in the elegant (as elegant as I have seen) dining hall. After dinner we "toured" sections of the hotel, which had many interesting "artifacts".
Thursday, June 8: We started out for Sorrento along the narrow winding roadway overlooking the sea. The problem of driving this road is the incredibly chaotic driving and parking. Cars would be side-wise parked into narrow spaces with their tails sticking out into the traffic … these had to be dodged while watching for oncoming traffic … there simply was not enough room for two and a half cars or a car and a bus abreast on the road. Just outside Positano, I called out, "There's a hotshot coming up in back of us". Sure enough, he was a delivery truck who zoomed right up to my rear and stuck there …. that is, until I rounded a curve and had to a stop for an oncoming bus …. and the "hotshot" banged into the rear of our car. No one was hurt but we had damage to our rear bumper and trunk lid. So…all traffic came to a stop while we surveyed the scene and this is not a very happy thing to have happen while crazy Italian drivers want to get on to wherever they want to get to. The upside of this dilemma was that there was a man, a very special man, who came to our assistance. His name was Luigi and he dismounted his motorcycle when he saw the scene. He spoke excellent English and quickly took control of the situation. After he spoke (Italian) to the hotshot, he beckoned us to follow him on his motorcycle. We followed for about ten miles to a place that turned out to be the delivery company for which the hotshot worked. Upon reaching the place, our "savior" took charge. He explained what had happened to the boss and called our rental car agency detailing the whole matter. He then proceeded to fill out a complex form detailing the drivers and cars involved and the accident description… this all took
For about 45 minutes we stood around with our hands in our pockets… except for Marj who took several photos of the two vehicles. So … about an hour after "meeting" our hotshot, we were on our way, thanks to the incredibly good graces of Luigi who is a majordomo in a 5-star Positano hotel. We have written Luigi and asked that we be his host whenever he might come to Los Angeles.
We drove into a "zoo" in Sorrento; the traffic was intolerable and we had no idea of how to find our hotel, il Nido ("the nest"). We stopped on a busy street and asked a young man if he could tell us how to find our hotel. And-did he ever! He led us up the mountain through winding roads for at least 15 minutes and … there we found our "nest". This reminds us, once again, of how kind and generous our Italian "friends" ,were … how they went out of their way to assist strangers. Il Nido is a small family-run hotel and situated high above Sorrento overlooking the Gulf of Naples and, in the distance, Mount Vesuvius … and this was the scene the Goodman's and we were treated to from our balconies. The hotel, being so far up the mountain from the main city, provides a shuttle service, which is ideal. To have stayed in the city with the maddening throngs would have been a test_ After we had settled in, we shuttled to the "downtown" where Marion and Sam took a taxi and a boat to Capri while Mari and I walked the "town". We came upon a wedding in progress and poked our noses in and became part of the wedding party as it exited the church. The rice fell as much upon us as on the bridal couple. We were disappointed in the "beaches"…they appear to be little stretches of sand partitioned off by commercial shops and eateries. When we were ready to return to our hotel, we were assisted by yet another Italian who used his calling card to phone the hotel for us. I would not recommend Sorrento except for the incredible scenes of sea and mountains. But, if someone wanted to visit Sorrento, I would recommend il Nido as a small delightful hotel to visit.
Friday, 9 June: A long drive to Rome to the Sheraton Rome Hotel about fifteen minutes outside the city. The hotel is strictly commercial but is ideally located between the city and the airport (da Vinci) and provides shuttle service to both places. After lunch, the indefatigable Sam and Marion took the shuttle into the city while Marj and I rested up from our labours. Saturday, 10 June: Taxi to the airport and a 16 hour flight, via Milan, home. Met at LAX by the limo (Carnival Limo). It was good to get home.
It was a Great Trip…Lots of Adventure!…Fun for the Goodman's and Katz's