TINA IN SICILIA
May 14 2010…June 1 2010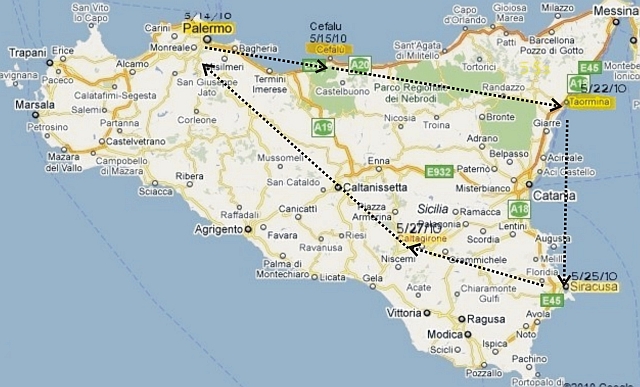 5/14/10 Palermo:
Ciao everyone! I have just arrived in Palermo, and already I am finding it both intoxicatingly new and exciting as well as delightfully familiar. Strolling down the street I can tell instantly who the Italian girls are–a blend between Suzi Quatro and the Victoria Secret models. They have big earrings and lots of make-up and very high heels. I feel quite dowdy in comparison with my traveling tennies, but I have donned some of my biggest gaudiest earrings to compensate. It took only a few minutes to lose my initial shyness in speaking Italian, and I quickly made friends with Lorenzo the taxi driver who drove me from the airport to my B & B. By the time we were barreling down the main street in town, playing chicken with all the vehicles that came charging at us from both sides (right of way goes to the bravest, and I noticed that Lorenzo consistently won despite amazing attempts from cars which practically kissed our bumper, but were unable to penetrate the stream of traffic), Lorenzo and I were best friends. I asked him what I should see in Sicily, and let me tell you–there is nothing jaded about his attitude toward Sicily. I could almost see his chest puffing out as he told me about the beauty of the mountains, the beaches, the ceramics for which Sicily is famous. I told him that I had gone to school in Perugia 30 years ago, and that I had an Italian boyfriend named Robert. His eyes lit up with delight at this, but then he was disappointed to hear that we were no longer in touch. More later. gotta see the city!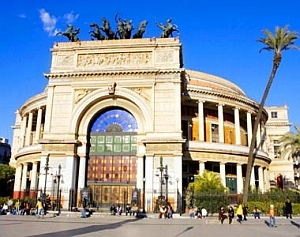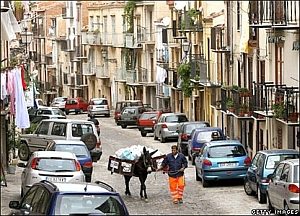 5/15/10: Palermo & Cefalu:
It's amazing that I was able to write anything coherent yesterday. Much to my surprise, there isn't an internet cafe around every corner, and the only thing I was able to find was the local mini "Kinko's." They had one computer, and they were happy to let me use it, but every time a customer came in, I had to stop so they could insert a flash drive, make 100 copies of something, or print some color enlargements of a little girl in a park. At one point when it was clear that they were going to need the computer for a bigger project, I walked to the corner bar for a little pizza and suco di fruta, and learned, much to my dismay, that the microwave had found its way here, and the heated pizza was pretty bad. Fortunately the fruit juice was yummy as I remember it.
I walked through town and enjoyed seeing the unapologetic mix of modern and ancient–brightly lit stores with the latest fashion next to an old stone portal that must date back to medieval times. I then found the street market, mostly food, but also flowers and household items. You could smell the raw meat mixing with the scent of fresh strawberries. The fish stalls had gigantic chunks of fish and many contained also the entire head of the swordfish prominently displayed. I found it particularly disquieting to see a large swordfish head artistically curved so I could see its big dead eye staring at me. Suddenly the concept of eating animals became very real and personal. I may not become a vegetarian, but I have an increased awareness of what I am doing. People in the street seemed very removed until I would stop to ask a question, and then suddenly they were unbelievably warm and friendly, willing to answer questions and provide detailed directions to wherever I wanted to go. What absolutely delights me is that people seem to think I am French! I always used to hate that I was immediately identified as an American because it was so obvious that I was such an outsider. Passing for French makes me think that I am blending in better, just that much closer to being Italian! And no one speaks English to me–yay!!!
I returned to my B & B (4th story, no elevator) and slept a long time. Breakfast was pre-packaged toast and jam–but ohhh the coffee! I watched Maria make it in a tiny little pot on the stove where it boiled long enough to make a reduction, and indeed, when I poured it out, it was a thick and delicious coffee sludge that blended wonderfully with the hot milk. Sipping my coffee with pure pleasure, I chatted with Maria about her life. Is it the struggle of learning the language or is it the anonymity of strangers that permits me to ask very personal questions? Not sure, but in just a few minutes I learned that Maria came from Poland, that he isn't really happy here and wants to go to northern Italy to care for a disabled woman and live in her home. Right now she is working for Alfonso, the owner of the B & B, who owns two places, and she services both. She is waiting for him to find someone to replace her, and then she will go home to Poland for a visit with family, some R & R, and then to the job in northern Italy, which apparently awaits her arrival–whenever that may be. She owns a small white dog, and the dog knows to wait to come indoors until her feet are washed after a walk in the rain. And I learned lots of new words during this conversation! I feel like Helen Keller having just discovered the key to sign language, and the world is opening up to me. Each contact, each conversation is a new opportunity!
Bidding buona fortuna to Maria, I went to the train station and caught the train to Cefalu where I will be living with Signora Rosa while I go to school for a week. Looking out the window on the train was phenomenal as there is no way to predict what will come next. One minute we are moving parallel to the beach, and the next surrounded by factories, and then beautiful countryside. Houses in irregular patterns dot the landscape, and a grand palazzo can be next to a tiny shack that looks barely bigger than a garage. There are lots of new apartments and high-rise buildings, but amongst them are many beautiful old buildings. Rarely does it appear that there has been a planned community, but rather it looks as though houses go up in random patterns.
Cefalu is charming with winding streets–exactly what you hope to find in Italy. Il centro was a five-minute walk from la stazione, but I have no idea how far I am from where I will be staying. The internet cafe has music videos playing in the background, mostly rap in Italian, but an occasional song in English that borders on elevator muzak–an eclectic blend just like the architecture! Thanks to all who have written. Forgive me if I don't respond one-on-one, but believe me–I am reading and enjoying every note! Ciao!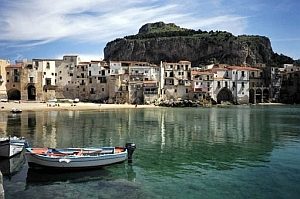 5/16/10: Cefalu:
Just yesterday I was in Palermo, learning to dodge the traffic like a native. The first time I had to navigate from one side of the street to the other, I waited for another pedestrian to lead the way, and I leapt into place to keep step with him. It didn't take long, though, and I was soon making the dash on my own. Even the dogs can do it! From the window at breakfast yesterday I had a bird's eye view of the grassy mini park in the middle of the piazza, and I watched a dog plot his course, first checking out the traffic at one spot, moving to a better place, gauging the cars and their speed, seeing his chance, and then moving quickly to the sidewalk opposite the park.
Today I am in a different world. Unlike the big cosmopolitan city of Palermo, Cefalù is a tiny village, una piccola città. Don 't get me wrong–it has shops with the latest fashions and lots of restaurants, but the impersonal big city feel does not exist here. Yesterday when I was walking around with my suitcase, instead of quietly letting me go about my way, as they would have done in Palermo, I was literally beckoned by the old men sitting on the benches. Though it was in Italian, this is how I heard them: "Hey! Come over here! Wha' chya doin'? Whar you goin'? Wha' chya wanna know?" If you didn't know better, you might think these questions were accusations, but it is a friendly nosiness and a desire to help that lies behind the barrage of questions, all fired at me bam-bam-bam. Initially I told them the address where I was headed, but they wanted to know WHO I was planning to see on the Via Cirrincione, and when I said the name, oh, yeah, sure, we know them, they take in students, very busy there, yeah, go to the next street…[That's Tina standing in the center of town]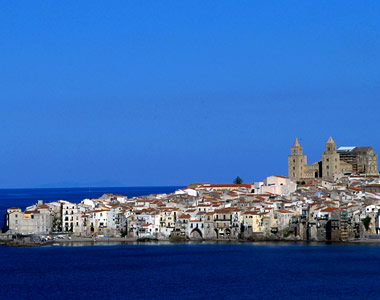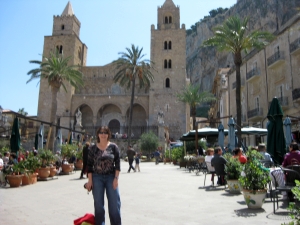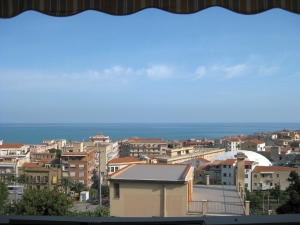 I walked up a big hill and was beginning to despair that it would be much much further because the address on the other side of the street was 100, and I wanted 39, but then I looked at my side of the street, and it was in the 40s–too far. We expect the numbers on both sides of the streets to be related, but apparently that isn't the case. Asking another man on the street, I was directed to the right place (back down the hill), and I rang the bell. An unintelligible voice on the intercom gave me instructions I couldn't hear, and probably wouldn't have been able to understand in any case, but the door buzzed, so I went in. I waited long enough to figure that she wasn't coming down, so I got in the elevator, and there she was–my little angel named Rosa. Come in, come in, you want something to drink, a coffee, anything? Come in, here is your room, the bathroom, put your things here. The room is small and neat, with a narrow slightly lumpy bed and a rock for my head, as I expected. It has a huge window looking up at the mountain and a half view of the Pietragrossa for which the nearby street is named. The mountain has houses, but the Pietra is a beautiful straight up and down variegated rock. The window in the living room has a gorgeous view of the nearby ocean, which is wind-whipped with big waves and beautiful to watch.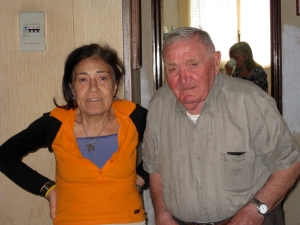 Rosa is about 60 years old, living with her father who is in his 80s. Her sibs are all married with children and living locally, but she was never married and has always kept house for her father. I told her that she was known all over Cefalù, that everyone I asked knew her name. Oh of course, Cefalù is very small, everybody knows everybody; it's good that way. I couldn't help but recall my friend Sandy who lived in Santa Cruz and used to shake her finger in my face every time I came to visit her saying–no GROWLING at me that I should NOT to talk to ANYone about ANYthing because everybody knew everyone and she didn't want anybody minding her business. It occurs to me that I am pretty chatty here, and it might be a whole lot more than any of you want to hear. And if that is the case–there is always that DELETE key. I promise you won't get quizzed later! Like me, Rosa is also chatty, which I find delightful. At dinner we shared stories. She told me about a German girl who had stayed with her at one time and had fallen in love with a Sicilian boy, but the boy got too possessive, too crazy (typical for Sicilian men she says), so the girl ran away. I told Rosa about some crazy friends in LA (Mike & Mary) who have to tell their children to go visit the neighbors because Mom and Dad need to fight. Oh, that sounds awful, so stressful, we laughed together.
The internet cafe here is not like others I have known. People are yelling back and forth, and it is a very friendly environment. In fact, all of Cefalù is like this. It's like a movie set of what you would want Italy to be like-and it is! There are lots of tiny streets for foot traffic only (and the occasional motorbike), and buildings on each side that you know have been there for hundreds of years. People on the upper stories hang their laundry on outdoor lines. Life is just happening all around, close and real, and intimate!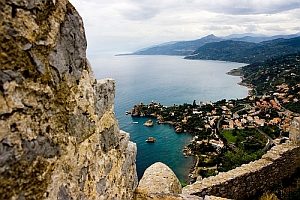 5/17/10: Cefalu:
Put me in any Nordstrom's any time, any place, and I have an unerring ability to find the shoe department, but that keen sense of direction seems to stop right at the door of the store, and definitely does not extend to travel. So, despite the fact that the city is so tiny that everyone knows everyone, I still managed to get myself lost yesterday afternoon. (You would think that the gigantic Pietragrossa would have helped, but there is a 180 degree view of it, so just because you can see it does not mean you are completely oriented!) So I am walking along and realizing that I am truly lost when AHA, I spot Rosa's father coming toward me. CIAO SALVATORRE, I shout (gauging by the level of the sound on the TV at night, I assume he is hard of hearing). He looks at me with absolutely no sign of recognition. SONO TINA, LA DONNA IN LA SUA CASA. Still no recognition. I am trying to tell him that I am lost and need to know where the house is, and he is talking at me but I cannot understand a word. Rosa has been interpreting for me. She says that everyone has a hard time understanding him. He doesn't have any teeth, and he seems to be a mumbler by nature, and I think he also might be using a Sicilian dialect, so it's basically impossible to understand him.
During this brief exchange, there is a casual touching that–well, when my nieces were little, they would have shouted PG-13! Could be an accident, right? The first time. I look him in the eye and try to get a read on this, but his eyes are squinty, and I can't tell. The second time he reaches out, there is no question what he is doing. I wave my hands in front of me to express my disapproval. I am still trying to get him to point me in the direction of home. The THIRD time he gets a good grope and expostualtes the only word I was able to understand–BELLA! And then I realized it was useless to persist and I would be better off finding my own way home. I think I hear him chuckling as I head on down the road.
That night at dinner, I am giving him a wi-i-i-ide berth, ya know? Unnecessary. He barely acknowledges my presence and clearly does not make any connection between the woman at his dinner table and the fun he had during his afternoon walk.
5/17/10: Cefalu:
These Italians are such a joyously noisy lot. Again I am guessing that it is a Sicilian dialect, because I am not understanding much at the internet point (not called an internet cafe here), but it is LOUD! And fun. And so Italian! Oh–that reminds me. My masquerade as a French woman isn't holding up so well. Three people spoke to me in English yesterday. But when I left the tavola calda after lunch today they bid me au revoir, so there is still hope! But speaking of restaurants–I am sad to report that the microwave is ubiquitous and you have to be vigilant to avoid its destruction.
Today my classes started, and I am grouped with two girls from Germany. There are about 20 students in all, most from Germany, and I think everyone speaks English. The age ranges from mid 20s (the 2 in my group) to 60s. All but 2 are women and of the 2 men, one is from San Francisco, but I never had a chance to talk to him. After class I went to the bank to exchange my American money. Some banks you just walk into. This one had a security door like some jewelry stores in LA where you walk into a chamber and both doors are never open at the same time. OK. I can do this. Push the button. Enter the chamber. Wait for the first door to close (it does) and the 2nd door to open (it doesn't). Nrnrknrkgkrshck squawks the intercom. No help there. I look around. There is an emergency button and a button lit with red lights. I try to push it, and I am told essentially that I have failed and must exit and try again. I get out, get in, hear the squawk, and guess that the button is a fingerprint reader, but which finger? Will it know the difference? I clamp my index finger onto the lighted pad and hold. This is just a guess. I am permitted entrance!
I have mentioned that everything here is an eclectic mix–the architecture, the music, and now, the pictures on the walls in my room. One is a photo of Rosa's parents, yes, papà the lech and his now-dead wife. Two look like drawings of peasant women. In the same style and color palette as the peasants are two drawings of what I would call fine English ladies with parasols from the turn of the Century (not the last one, but the one before). Last, and most interesting to me, is the picture of the Madonna and baby Jesus at the head of the bed. This is not your standard Madonna and child, but reflects the Arab influence that is prevalent here. Instead of the standard blue draping, Mary is wearing a gorgeous and intricately patterned dress. Both she and Jesus have gigantic crowns with tremendous detail, and best of all–Mary, where did you get those great earrings! Sizewise, they put everything I own to shame!
Now many of you have expressed concern that I am spending too much time writing and not enough time DOING. Let me set your minds at ease: for me, writing enhances the experience and etches it in my memory. After this first week at school, I may or may not have access. For now, this is fun.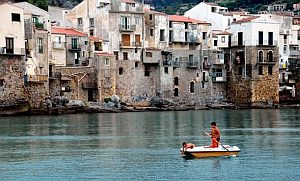 5/18/10: Cefalu:
The school has a small library of books, and I spotted the name Tom Sharpe. It just jumped out at me, and I am so glad. He must be the English Christopher Buckley, but less subtle and — to me, at least — even more hysterical. This book is called The Gropes (mere coincidence; has nothing to do with papà here), published just last year, and it's about a seriously dysfunctional family of landed gentry; what a RIOT! The other aspect of my education here: my classes. Today I was wounded to the core when teacher Laura said that the German girl had a better accent than I do. WHAT! She sounds terrible! Oh well. But class again was terrific. And Laura directs about 90% of her conversation to me, so I guess having a bad accent isn't fatal. Today she was talking about politics, right and left and the diminishing difference between the two, political scandal, history, corruption, Mafia, and more. I really try not to be the only one jumping in, but the two German girls never say anything unless a question is directed at them. My experience teaching is that it is much more interesting to interact than to lecture, so I jump in pretty frequently. Obama, Jim Jones, Clinton/Lewinski–I've got lots of material to work with!
My internet point is about to close for lunch, and this afternoon is a walking tour of the city, so I will probably get back on at about 7 or 8 in the morning your time. Paul, you should use your gmail if you are on at that time and we can IM.
So we get language lessons in the morning, and optional culture/history/travel/exercise in the afternoon, and today we had a walking tour of Cefalù. (Judy and Kristin, this answers your questions, I think.) We started right at the edge of where the old and new meet–the ancient medieval stone city (the part which is nearest the beach and where my school is located), and the new modern section (where Rosa's place is with dear Papà). The other attendees were 3 women from Germany. They all speak English quite well, and the teacher too, if need be, but the object, of course, is to learn Italian in the process, so I got just a bit more than half, and that's OK! It also makes for some fun mistakes, like when one of the women was trying to ask about my local hosts, and instead talked about my hostage!
We climbed up part of Pietragrossa, and we heard folklore about this mountain, how many different groups–Phoenicians and three lesser known–had invaded, conquered, inflicted its culture, etc. Then we headed toward the beautiful church and, among many other stories, heard about the reconstruction work, how it is impossible to reproduce the windows as they were in medieval times because the originals are probably completely lost, the colors cannot really be reproduced as they were then, and the windows now are artists' recreations intended to represent what was (not so great, but then nobody asked me). The most interesting part was, of course, the part I had the most difficulty understanding, so forgive the mess I am about to make of history. The gorgeous mosaic work in the church is Byzantine, and it is intended to show its separation from, and indeed–hostility to papal control. It's sill all about Jesus, of course, but the depiction of Jesus is totally different. See, in the Vatican version, you need the Pope to get to God, but this offshoot believed it could connect with God directly, so Jesus is depicted, not on the cross (we reject those Papists!), but instead as a man. His hand, however, raised in benediction, shows two fingers raised and crossed, and the crossed fingers indicates the melding of man and deity–half human, half god. Hey, not bad considering I missed half, huh! What made this even more fun is that there was a wedding getting ready to take place any moment, and the fashion show was great. How these women walk in 6 inch heels (no exaggeration–giant heels and 2-3 inch platforms), especially on this rough medieval stone blocks, is un-be-lievable!
We saw the ancient washing place, the old port, and lots more. There is also a museum housing the most famous artwork in Cefalù (see the link below), and it is said that DaVinci had this piece in mind when he painted Mona Lisa with the enigmatic smile. I like this piece better, especially that raised eyebrow!
Thanks for all the expressions of withdrawal pains resulting from the lack of mail over the last few days! Last Thursday after class we took a lovely bus ride to Monreale. Part of the time it was rainy, but quite often the sun came out, and most of the time we were driving along the coast with beautiful views of both hillside and ocean. I sat next to a woman with an English accent, but it took me awhile to realize she truly was from England because many Europeans speak English with an English accent, so there I was using my simplified English with a more sing-song rhythm only to learn it was her first language ( kind of embarrassing).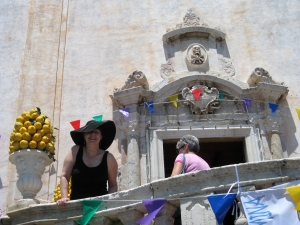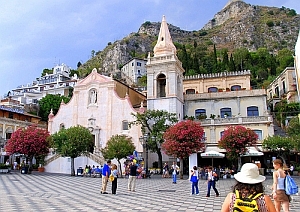 At Monreale we saw the church, heard the story of whoever it was–there was Guillermo the Good and William the Bad (none of these are to be confused with William the Conqueror as these are all little Williams in comparison), and within minutes I could not keep track of who was who. But whoever this guy was, he had a dream in which the Madonna appeared to him and said that she would guide him to his sweetheart if he would build a church in her honor. So he did. And she did. Of course, these are the fun fables, explains Vittoria, and in truth, it is all political. There was a central palace in Palermo, but they wanted to be able to get away from town, be in a cooler environment, so they had this vacation palazzo in Monreale. And, as in Cefalù, there was a lot of hostility against the papal faction, so they built their own church here, again showing they could connect directly with God and didn't need that old Pope to make the connection. At least that is what I think Vittoria said. Not because I didn't understand at the time, but after Monreale, we went into Palermo where we had a non-stop five hour walking tour of a bazillion churches, each with its own stories, and by the end of the day, my head was swimming, and the only story I can really vouch for is the last. At that church, there was amazing Byzantine mosaic work, and Lorenzo II was the king who commissioned the work. The most interesting part of the mosaic work is the one in which Jesus is blessing Lorenzo. Although Jesus is a bit larger, the colors of the stones used for him are paler, so it is really the king who stands out, but the most interesting thing is that the faces are essentially identical. You can't miss the message.
By the end of the tour, we were all so tired we could barely stand. And that crazy Vittoria was tireless. She dragged us through the stinky market streets where clearly they had been cutting meat and fish, and the street was all runny with stinky, slippery wetness, and then on and on, and finally we got to the bus, but the driver wasn't there. Well, we shouldn't waste this opportunity to look at the opera house, so let's schlep to the front and… well, by this time, I could not think any more, and I don't know what she said.
Language class seemed to be more focused on grammar and less on interaction, so I decided that time was too precious, and I ducked out at break time on Friday to catch a bus to Taormina. This is the city that Brent (again, thank you Celia for making this connection) called the Disneyland of Sicily, but that is all relative. It has its own little Rodeo Drive, no less fashionable, and probably just as pricey, though I haven't checked out anything yet. And in the streets you can hear absolutely every language. But I have found the absolute best place to stay!
I am in a charming B & B in the hills just above town. I can be in the center in literally just one minute, but it is worlds away. The window in my room, which opens onto a terrace with a view of the snow-capped Mt. Etna, is so well designed that it closes with a seal almost like a refrigerator, and instantly all sound and light disappear (although you can elect to open an interior panel to let in the light).
The room is nauseatingly overdecorated, but this is meaningless. Staff is soo nice, and this morning I had an extended exchange with Giusy, who speaks English quite well, but never once translated for me having instantly recognized my desire to speak Italian. She actually spent a month in Oakland studying English and has been to Universal Studios in LA, so she knows my home area quite well. We talked about language study in general and people and food and places to see in Taormina and so much more! I was already liking it here, but that just makes everything over-the-moon perfect! After breakfast (pastry she made herself among the many choices), she directed me to the internet point, but of course I got lost.
I stopped to ask for directions from a young woman standing in the doorway of a very trendy clothing store. She was drop-dead gorgeous (more than "easy on the eye"). I asked her where Vidaphone was, and she responded in English to direct me. "How do you know I speak English!" I wailed. "I could be from…from… Polynesia!" (I had trouble thinking of someplace where English wasn't the second language.) She laughed, "Okay then, you want to speak Italian?" People here don't have the same idea of personal space, and it is so refreshing. She stood with me shoulder-to shoulder, pointed, directed, explained, then congratulated me on my efforts in speaking Italian. Does this sound like a little nothing? For me, these little conversations make my travel so rewarding! As it turns out, I never did find Vidaphone (and I asked about 3 more people too), but here I am at Las Vegas, of all places! Weather is pretty hot, so I might have to buy some summer clothes. What a terrible thing that is! Love to all, Tina
Well, as you know, in attempting to speak a new language, it is easy to make mistakes like when Silvie from Germany wanted to ask me about my host family in Cefalù, and instead asked about my hostage situation. Well, I certainly outdid her today! For lunch (3:30 p.m. local time–my inner clock is still on its own schedule independent of time and place), I went to a cafe where one can sit at the edge of the terrace overlooking the ocean below. The view is beyond gorgeous.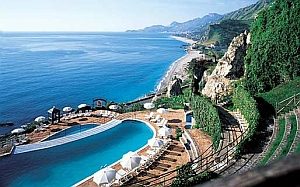 A meal is not just to satisfy hunger, but an opportunity for so many things–speaking Italian and trying new foods at the top of the list. After asking the waiter (in Italian) with playful exasperation how he knew I spoke English, he dutifully switched back to Italian and asked me what I wanted for lunch. Well, I am interested in the pasta with the eggplant, but I am not familiar with this kind of pasta. Can you please tell me what it is? Sure, it is short like this (he gestures about 2-3″) and open. Like penne? All of a sudden he freezes, then looks at me with exaggerated horror, and says, "LADY!" (yes, in English, but forgivable under the circumstances). It's called pennete! Looking at him and his waiter friend who is cracking up nearby, I infer my error. Oh. Penne refers to…a man…? Suddenly we are all laughing, and everyone around us is in on the joke.
Daytime here is warm and glorious, but the nights are cool. Last night I was very happy to find four thick, heavy wool blankets in the closet, and I used three of them. The problem is that the bed is so narrow (probably a bit less than a yard across) that the weight of the blankets pulls them to the floor every time I turn over! At this point I think I will spend another full day here in Taormina just enjoying the slower pace. At school it seemed I was always rushing, and now I am getting into the vacation mode. On Monday I plan to head west into central Sicily. I think. Unless something else catches my attention. Everything is an adventure, and I love that I can just DO IT whenever/wherever the whim takes me!
5/24/10: Taormina:
It's really true–sun comes up at a normal time, but it is light out until well after 8 p.m. Today is a bit overcast, and the locals are grumpy. Yesterday was more the typical day with warm sunshine, and I strode down the central avenue with my big sun hat, very a la Audrey Hepburn (or at least that's how I felt!). You know the gestures you see Italians make in the movies? You just know they can't be real because they are so exaggerated, but you know what?!? They ARE real! The entire panoply from kissing the fingertips — sooo delicious — to other gestures WHAT THE FUCK ARE YOU DOING –they are so expressive and fun. I almost feel as if it has all been staged for my personal entertainment.
I will be leaving Taormina in a couple hours and heading south to Siracusa to stay with Ida, who (sadly) speaks perfect English. My new BFF Giusy at the current B & B has convinced me that going inland is a mistake and that I MUST go to Siracusa. This morning at breakfast she and I talked about movies, racism, education, philosophy, and so much more. I am sorry to leave her, but Taormina is small, and there is so much more to see out there!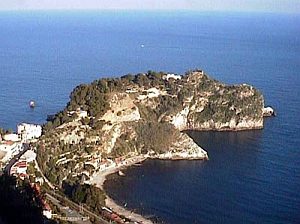 5/25/10: Siracusa:
So yesterday Guisy called her friend Rosario to drive me to the airport. It seemed an awful long telephone conversation just to confirm a taxi ride, but Guisy told me that they had also been discussing his wife and baby, and indeed, when he arrived, his "taxi" had a babyseat strapped in back. The drive from Taormina to the train station takes you through winding narrow roads where he literally had to inch by the walls or parked cars to avoid losing his side mirrors. At times you see the coastline, and at times, you are encased within the hillside and can only see daylight straight up.
Rosario chatted with me and showed me a tiny island right off the coast, so close to the mainland that you could swim there in about two minutes. He explained that it had previously been privately owned, but now it was owned by the municipality. There is a museum on the island housing natural history, flora, fauna, and especially things from the ocean. There are caves there, and visibility for divers is terrific. But it wasn't just a one-sided narration, and as it played out, I was totally "in the zone." I wasn't struggling with the language, but the Q & A was just normal conversation. It was so natural, in fact, that I didn't even realize how perfect it was until I got out of the car. Then I asked how much and was again reminded how much I miss the lira. I can't get used to the euro, and every time I hear it, my whole sense of balance is thrown out of whack, because what I hear is "hey you row" but just without the "h" sound at the beginning. It is so unsettling that I fail to catch the amount because ay-yu-ro has no place in my consciousness, and then everything goes blank, and I am left wondering what just happened. Fortunately, most people see the confusion and they repeat the amount. I have been here 1.5 weeks and still can't get it!
The train ride to Siracusa was unbelievable: gently rolling hills broken up by patches of residential areas, farmlands with cows, and then some industrial areas too. There was an occasional lazy river, but most interesting was a swampy are in which sat some ancient ruins. That is what is so wild about Italy is that you just never know when history is going to jump out at you. Unfortunately I don't know anything about that particular area, but just seeing it is fun.
The trains have been never once been full, which is great for me, as there has always been an available seat. Yesterday was practically empty, and I spread out across the seats and used an extra for my bag without ever getting in anyone's way. At one point I noted that the train station did not correspond with where I thought we should be, and I asked the only other person in my part of the train if we were still en route to Siracusa. My new BFF Franco assured me that we were going the right way. Franco is 48, he lives just outside the main part of Siracusa, and he was super nice in helping me find the shuttle to my pensione.
My room has a fantastic view looking out over the ocean with wide windows that open up for maximum viewing pleasure. Host Ida made me feel almost like a family guest this morning as she sat with me over breakfast and talked to me about all the things I can do while here, what to see, where to go, bus schedules for travel to nearby villages that are not to be missed. Again, I felt myself just being in the zone, and this mood has only increased all day long as I have started walking around Ortigia, which is the ancient/historic section of Siracusa and is actually an island right off the main part, which is reached simply y a bridge, so that both island and mainland are easily reached on foot.
I strolled through the narrow streets, each one as picturesque as a postcard.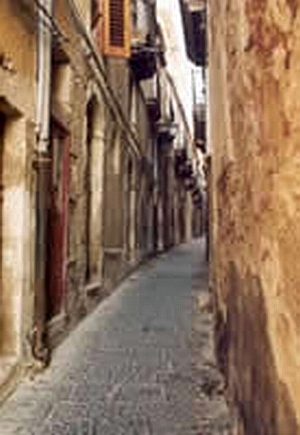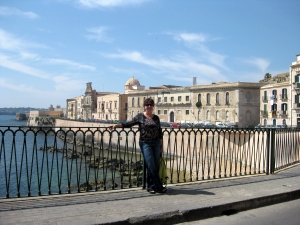 With each step I just felt my sense of joy at where I am blossoming. It is unbelievable. I have even started talking pictures. I was ready to defend myself against attack for failing in this, and I was going to tell you all the my letters were my photos, but today I started having fun with the camera. I even asked a woman on the street, not to take my photo, but to be my model in a very unique tea house constructed by a Japanese man and made completely out of recycled materials, which is on display in a courtyard. She was quite surprised and asked why I hadn't asked the nearby guard if he would pose. No, I said, I wanted a woman, and she looked over triumphantly at the guard as if to say Haha, she wants me and not you!
I went looking for little souvenirs for friends, but as is always the case, ended up finding shoes for me. See–I don't even have to be in Nordstrom's to find shoes! It's been such a blast, but now it is that crazy everything-closes-so-come-back-later time, so I guess it must be time for lunch. Ciao!
5/27/10: Caltagirone:
Today I left Siracusa and boarded a bus for Caltagirone, where I am now happily ensconced Tre Metri Sopra il Cielo at the pensione of that name. Some kind but seriously demented stranger at the station told me that the center of town was in easy walking distance, so I decided not to wait for the local bus (and there isn't a taxi anywhere in sight at the station), and I dragged all my stuff over a mile, all uphill, and then up more stairs than you would want to count to arrive–truly–just over heaven. The view from one window overlooks the stairway to heaven (a church at the top, of course), and my cozy spot is about 3/4 of the way up. But ohhh, the other window looks out over the rooftops of the rest of the city!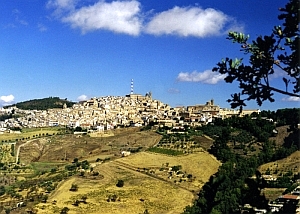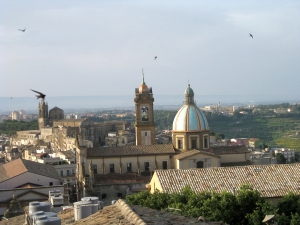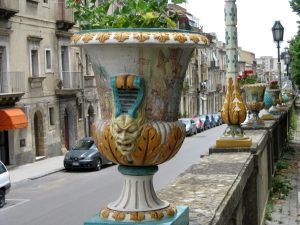 Caltagirone is famous for ceramics, and this quickly becomes obvious as you walk those many steps from the station. Walls are lined with giant panels of bright acqua and sunflower yellow tiles and atop the walls are hideous vases with ugly faces painted the same colors. Somehow those colors become the perfect combination as I see the giant majolica cupola of the nearest church.
Going to call this quits for now as the computer I am using is seriously defective.
5/29/10: On The Way To Palermo:
Let me just start by saying that I LOVE THE TRAINS HERE! People keep urging me to take the buses, and indeed the trains are really empty, which scares me in terms of their permanence, but they have been fabulous for me. The windows are big, and you can look out and see such interesting countryside, rolling hills, lots of wildflowers (Paul, you would love these!), bizarre crumbling buildings in odd places and wild outcroppings of giant rocks.
Today I left Caltagirone and headed for Palermo, and during the second leg of the 7-hour journey (you don't have to feel vicarious pain on hearing that; I enjoyed the whole thing), I became quite friendly with the conductor. He saw me open the door during one of the stops and asked if I needed anything. I told him that I was simply enjoying the air and the opportunity to look around, so he invited me to take a brief stroll. After that, at each stop, he would find me to invite me to step out, advising me just how much time I had before we would be leaving. The best stop was Enna. I had actually considered staying there for a couple days, but ultimately decided to forego the adventure in favor of some serious down time in Palermo, which I thought would be good before I come home. Otherwise it would be a lot of schlepping and running and no long afternoon naps, something that easily fits into the Italian timetable where everything closes from 1-4 p.m., but somehow I only got to indulge in this guilty pleasure one time!!!
This entire day has just been so amazing. I did some last-minute shopping in Caltagirone and then Tano (owner of the B&B) drove me to the station (really far away–I walked a lot to get there on Day 1!), and while waiting, I was befriended by a man at the station who shared his ideas about the sad state of the world: unemployment, war, lack of funding for important things, the world in crisis, natural disasters like earthquakes and tidal waves. I talked to him also about the euro, complaining that I missed the lira. Italians are nearly all intensely proud of their country, so I fully expected his nationalism to rise up, but instead he countered that the joinder was important to give the small European countries more strength and power on the world's economic stage.
At one transfer point, I needed to conduct some business at the ticket window, and became instant friends with the man behind the counter. After I made my purchase, I inhaled to begin to ask if there were a baggage check spot, but before I could get the words out, he beat me to it. I smiled with relief and asked how he knew what I wanted before I could ask, and then his friend was there waving his arms around this guy's head as if to indicate either that he knows all/sees all and/or is just crazy. It simply became one of those special bonding moments where you are all laughing together and you just have that instant intimacy. Good thing, as you will soon hear! So I checked my bags for the one hour I had to kill before the next train. This is what I mean by living large. I paid 6 euros (about $7.50 based on the exchange rate the day I did it), and this is something I would once have been unlikely to do. For one measly hour? Yes! So I strolled down the big avenue and found a place where I could get a lunch to go (so I wouldn't have to resort to my cocoa crispies, which I had brought along in my tote). And again it was one of those wonderful bonding moments. The girl behind the counter made my lunch and packaged it for me, and the manager (?) laughingly told me that she was wicked, and I said no, I don't believe it, but I think YOU are, and she loved it, laughed, and agreed that he IS wicked. He pretended to be insulted, and we all had a really good laugh. It just left me buzzing with delight!
And excuse me–time out for bragging here, because after all, this is all about me, and you know I am not shy. Everyone, and I mean EVERYONE has congratulated me on my ability to speak Italian, even people who are used to speaking a strongly accented English such as the B&B owners Giusy and Ida–they are thrilled that they can just talk and not have to work so hard. And I am getting most of what they say, certainly all the most important stuff anyway.
So anyway, I go back to the station and there is a big buzz, and I am asked for my documents, which makes me wonder what's up with security, but I have my passport, so no problem. Then a policeman comes up with my friend from the ticket counter and they ask if I am the American named Tina, and they have–not my passport–but a little wallet with my credit cards!!! I have no recollection of even having taken it out of my purse, but I guess I did, and thank goodness they tracked me down. All day it was just one nice connection after another, and I feel as if, in the midst of strangers, I am surrounded by friends! And with that, I must say goodnight. It's been a long day. I have three lazy days in Palermo ahead of me, so I will probably be writing again before I head for home.
5/30/10: Palermo:
OK, you haven't heard from me in the last couple days, not because I didn't have access to the internet, but there was just nothing good to say about Palermo. This is a smelly, ugly city that doesn't feel safe (in fact, for the first time in Sicily, I was warned by someone to hang onto my purse carefully). The noise is not the fun yells of life, or even, as happened in Caltagirone a loud public meeting in the town square praising (or condemning; I couldn't tell!) the communist party, but here it is industrial sounding with machines thrumming and car horns always blaring. And I looked at the entire beachfront yesterday thinking that maybe a room on the esplanade could fix at least some of this, but the entire shoreline here is dotted with hideous industrial cranes and all kinds of ugly metal work.
I could even deal with all of that, but there aren't even any Italians here! As I walked the street yesterday, everyone I saw had an open map over which the person was poring or talking and gesturing with someone trying to figure out where they were. There are a bazillion tourists, mostly German and American, a few French. I wanted to stop for lunch yesterday and found a cool breezeway between buildings lined with tables and brightly-colored umbrellas, but it was clear that everyone there was part of some tour group! People in shops are immigrants from India, the mideast and Africa. It is fun and challenging to speak Italian to the Italians, but add another layer of a heavy foreign accent to the mix, and it's just not the same thing!
I am too close to departure time to run back to Enna. I never like to push things too close, so always plan to be near the airport the day before departure. Here it is even more important because even the national train website has a link saying "what to do in the event of a strike." Wouldn't it be nice if the train's website also included a SCHEDULE of destinations and departure times! Well, somehow or other, I have been getting where I need to go, and somehow today I am going to find a way to get to Capaci. It is described as a sleepy beach town. The hotel I have booked is very basic, no frills. That means that I might not have an opportunity to write again, but it's a price I am happy to pay for the delight of my escape. Love to all and see you soon!
5/31/10: Palermo:
The checkout process was enough to restore my good humor as both Gaia and her assistant lavishly praised my Italian. This, I told them as I curtsied ostentatiously, was absolutely my favorite compliment! Yesterday I had been distraught to hear an American woman speak in perfect Italian to the hotel staff, and I began to think that perhaps I wasn't so clever after all
WAIT! Gotta interrupt my own recitation for a right-this-minute-just-happened fun story. I use the computer in the lobby of the hotel, so I can hear Gaia answering the telephone. I hear her say, "Weht. Ken yoo zpeek more zlowlee pleez. I'm zourie, I kennut understend." I run over gesturing wildly to get her attention but not actually interrupt. I whisper–can I help? She hands me the phone, and the man needs his wi-fi internet access code and password. I relay the information that Gaia has handed me on a slip of paper, and the man is happy, and Gaia and I are smiling like idiots. When I hang up the phone, Gaia says she has a very hard time spelling, and I tell her it is because, with vowels especially, the pronunciation in Italian sounds like a different letter (our long a is their e), and she needs to give an example, like saying "a" as in Amsterdam. I see the lightbulb go off in her head, and I am deliriously happy all over again.
Ok, so I was telling you about this woman whose Italian outshone mine. After the Gaia story, it pales a bit, but anyway here goes… I had to find out more, so I talked to the woman who turned out to be Canadian, not American (so much for my ear; no wonder my accent is so bad!), and she was here with her two sisters. But the reason she spoke such perfect Italian is that she was born here!!! I am validated again; yea! (Just a side note: Marci, from the side, this woman is your doppelganger! I think you have some Italian blood somewhere in your lineage.) Things are all back on track. There is a train that goes to Capaci, where I have a reservation, at 1:30. As in Caltagirone, there may not be a taxi on the other end, but I don't care. Gaia (with no prompting from me) said Capaci is a pretty little town with a lovely beach and very quiet. Score!
Well, my goal had been to come home having spent my whole allowance, and I think I have fallen short. I even took your advice Paul and pulled a "Kauai" (double booking for same time period), but I only had to do it for one night, and it cost me a mere 40 euros or about $50. I was in a B&B that was fine (ANYthing was good after Palermo!), and the people were nice, and the large window with a lovely breeze overlooked a street where the grocer was directly across. It appeared to be a father-son operation, and they frequently hung out together outside where they displayed the fruit and veg, and they talked to friends and customers out there. A pleasure to see and hear! Nonetheless, it was a bit noisy from car traffic, so I was thrilled when I strolled down to the shore and found a great hotel. I asked Pietro if he had a room with a view of the ocean for me, and he paused dramatically–well, a view you want! How about a photo? Then he said–you just happen to be in luck. The person with that room just left, and you can have it! Would you like to see it?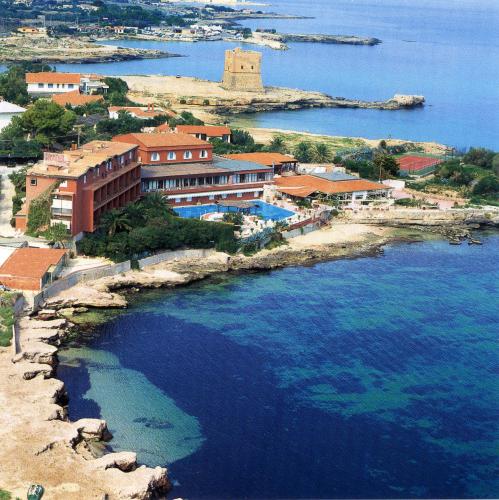 So I am now in a nice little beach town that is quiet and clean and delightful. I understand that in the hot months it is absolutely jammed, especially on weekends, but now it is half deserted, so no matter how hard I try, I don't think I will be able to achieve the goal of spending everything. I guess I could buy a t-shirt or something, but even that might be hard to find!
It is glorious here and a wonderful way to conclude my visit to Sicily
6/1/10: Palermo:
This is exactly how I envisioned concluding my trip–with a room overlooking the ocean and no agenda other than to read, relax, eat like a pig if so inclined, and enjoy the surroundings. There is a giant stone cliffside on one side, much like the one in Cefalù but bigger, and then there is the gorgeous ocean on the other side. It is that beautiful blue of the Mediterranean, not the turquoise of Tahiti, but deep and intense sapphire blue. The Sicilian boys come here to surf.
This morning I took a bicycle from the lobby and rode it along the beachfront. I have never ridden a bike quite like this. It forces you into racing position because the handle bars are so far away that you can't touch them unless you fold yourself in half and stretch forward. The narrow seat is designed for optimum discomfort, so once I got past the wobbly start (hence the albatross in the subject line), I found myself perching on one side of my butt, and then the other in an effort to avoid the most uncomfortable center position. But I thoroughly enjoyed the ride, the view, and that heavenly ocean air.
And don't think that I am just idle here while sitting in the lobby of the hotel. I am earning my keep directing traffic. Pietro has gone to have lunch, and I have told people where to find him. I have also offered (and he accepted) to answer the phone if no one else is here to get it.
Last night I went to dinner at a place just down the road. Following Paul's example of being adventurous, I allowed the waiter to guide my selection. (Actually, he just says, "Pick for me," but I wasn't quite that willing to throw caution to the wind.) The waiter told me the calamari was really good, so I made sure first that there would be no head to make the meal too personal (I am turning into my mother!), and ordered it. True, no head, but an entire body, with the tentacally things stuffed into the hollow interior. When in Rome…
And I was the fortunate observer of a wedding party, complete with pre-recorded here-comes-the-bride music. Ironically, though, the bride was not dressed in white, but complete black. It was still a wedding style dress with lotsa tulle and bling, but all black. The bride looked neither happy nor unhappy. She could have been the teller at the bank, just looked as though she were getting on with things. I enjoyed watching people though. One couple had a young baby, and like all babies and young children I have seen here, this child appeared to be loved, valued, an integral part of the festivities and not a burden.
My inner clock is still all off, but considering the fact that I return soon, it will just be more of the same, not a complete shock. I only mention the clock because I have an opportunity NOW to have lunch, but if I don't do it now, I will have to wait for many hours for dinner. Pasta here I come!
Avventura di Tina … Fine