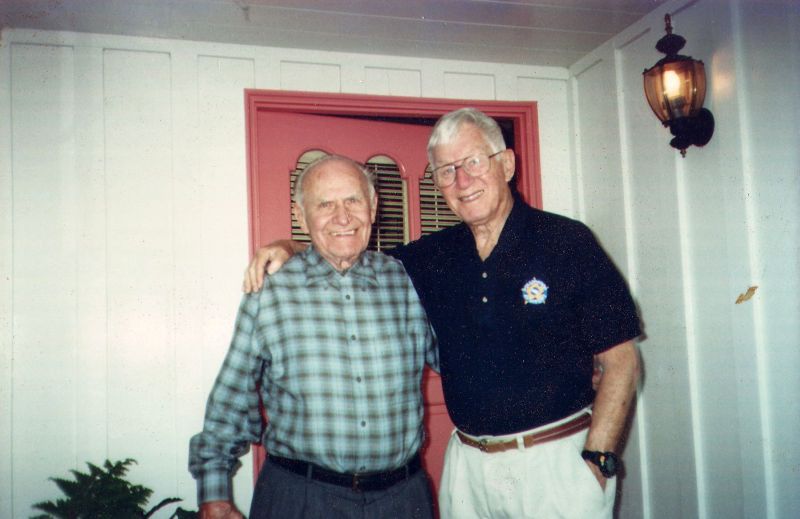 I first knew Harold when I took a job with Fairchild Guided Missiles in Farmingdale, Long Island, NY in May 1951. My job was as Aerodynamicist for missile design; Harold was a Senior Aeronautical Engineer in charge of Flight Simulation. Our work connection, though, lasted only a few months as Harold soon took a position with North American Aviation in Downey CA.
As I continued my work at Fairchild, the company built a new plant nearby at Wyandanch and I took over Harold's Flight Simulation Laboratory. By 1955, Fairchild was losing ground in the missile business and, as it happens, Harold on a business trip to NY called me at our home in Islip and offered me a job with North American. That changed everything.
By May 55 we were ensconced in our Whittier home on Penn St within a block of Harold and Florence's home on College. And, by that time, as our children (Ron, Dan, Paul), and theirs (Alan, Chris, Donna, Anita) were pretty much the same ages, our families became good friends. We began taking trips to the mountains, the beaches, to Ensenada, to Big Sur, etc. having marvelous times.
At North American, Harold was a Senior Engineer with the Autonetics Division while I was a Project Engineer with the Missile Division. Even though our work paths did not coincide, we met frequently for a Mexican lunch midway between our work places. We became the best of friends, which most assuredly continues to this day.
Some years later, Florence and Harold decided to go their own ways and, although we tried to maintain connection with Florence, Harold and I continued a strong connection, even after we left Whittier for Encino and our work places became more separate. Harold moved to Brea where he joined his "Hiking Group" which, even to this day, plays an important role in his life.
By the early Seventies, Harold and I began to backpack in the High Sierras. Most summers, we would schedule a trip somewhere on the eastern or western slopes of the mountains. Those were very special times in which shared many of our thoughts and hopes.
Harold and I each retired in the Eighties (although Harold went on to work several more years with Northrop Aviation).
By the Nineties, Harold decided to pursue a Masters Degree in Architectural Engineering. And…so Harold, in his seventies, enrolled at the California State University at San Luis Obispo (SLO). And this, also, changed everything!
After a semester in the college dorm, Harold learned of a room available in the nearby home of Dorothy ("Bonnie") Rasmussen. Harold moved in and…a Romance ensued! Bonnie (as we learned) was, and is, a very special and wonderful person who had lived in SLO for many years married to a renowned physician who was deceased by Harold's time.
Since the early Seventies, Marjorie and I had found our favorite "getaway spot" to be Morro Bay, only a short distance from San Luis. So it was only natural that, as we visited Moro Bay, we spent many happy hours with Harold and Bonnie. We always stayed at The Inn At Morro Bay and in a particular room overlooking the bay and the adjacent Heron Sanctuary. And, always, we played golf at the magnificent scenic golf course just across the road from the inn.
In the meantime, Harold had achieved his degree as a Master of Architectural Engineering, becoming the oldest-ever graduate of the college. And while living in SLO, Harold, ever the athlete (which all his life he had been) hiked and climbed all the mountain peaks in the San Luis valley. To this day (late 2011), he continues to hike and climb…quite a guy…and my best friend.
By phone, email and visits between Encino and SLO, we continue our lively discussions of politics, books, family and events.
Visits to Encino
BackPacking Buddies
Is This A Beautiful Couple Or What !!!